Apart Hotel Libertador

T.:+ 54 1152357238
Av. Libertador 1150 9405 El Calafate, Argentina (25 Rooms) - City center: 0.72 km
Click here for the map of Apart Hotel Libertador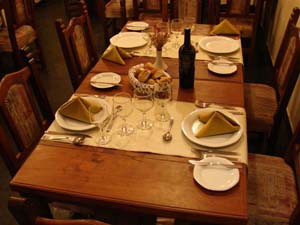 In the heart of Patagonia, one step away from the glaciers, there lies Apart Hotel Libertador, a resort made up of duplex apartments and rooms that provide cozy and family lodging for those who visit our region. Located on the main avenue, in the commercial center of El Calafate, it offers easy and quick access to banks, the casino, the telephone center, the Church, the Tourist Office, etc.
Availability
Enter the dates of your stay to check availability.
Sorry, no room rates available.
Policies
Cancellations:
Cancellation is possible until any time of day 10 days prior to the check-in date with a penalty of 1 night's stay.
A cancellation after that time or a no-show, will incur a penalty of 1 night's stay.
Early Check in: As soon as the guest make the check in, he only Could
reduce 2 nights without charge. Otherwise the whole stay will be charged.
advertisement.
Facilities
Location Hilights:

Town center

Near a lake

Mountain regions
Hotel Facilities:

Internet access

Wifi access

Bar

Restaurant

Room service
Hair dryer
Room Facilities:

Minibar

Telephone

Air-conditioning

Room safe

TV with cable or satellite

Baby cot