Visitel Hotel

T.:+ 1 5145290990
1617 Saint -Hubert Street H2L-3Z1 Montreal, Canada (20 Rooms) - City center: 8.64 km
Click here for the map of Visitel Hotel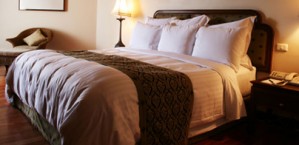 Visitel hotel is offering visitors an unforgettable stay at cozy home like environment and with its newly renovated rooms we provide visitors with a calm and comfortable atmosphere. Our hotel is located right in the heart of Montreal where our visitors don't have to go too far to be at the center of all on going events.

Our clients are extremely lucky when it comes to the location of our hotel for instance next to us is The Grande Bibliothèque, a vast public space , is an exceptional cultural place.
Availability
Enter the dates of your stay to check availability.
Sorry, no room rates available.
Meal Packages
Breakfast is included in the rates.
Policies
Cancellations:
Cancellation is possible until 12 midday 2 days prior to the check-in date without penalty.
A cancellation after that time or a no-show, will incur a penalty of 1 night's stay.
Check-in Time:
Check-in is possible 24 hours per day.
Check-out Time:
You may check out at any time before 12:00.
Reception Times:
Reception is open 24 hours per day.
Baggage Deposit:
Free baggage deposit in case of early check-in or late check-out.
Child Policy:
1 child up to 8 years are free of charge per room. Children above that age are considered as adults.
Smoking Policy:
All rooms are non-smoking.
Pets Policy:
No pets allowed except guide dogs.
Parking Facilities:
Private parking available for CAD 15.00 per night.
Airport pick-up service:
No airport pick-up service.
advertisement.
Facilities
Location Hilights:

Town center

Near train station
Hotel Facilities:

Parking

Internet access

Wifi access

Wifi access free

Room service

Non-smoking rooms available

Alarm clock
Fax
Room Facilities:

Telephone

TV

Air-conditioning

TV with cable or satellite
Hair dryer

Fans

Mosquito nets
Sports Facilities:

Bicycle rental

Bicycle rental
Tours and Excursions