Adler Hotel

T.:+ 49 6950504380
Niddastrasse 65 60329 Frankfurt am Main, Germany (39 Rooms) - City center: 1.58 km
Click here for the map of Adler Hotel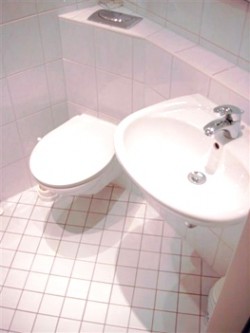 The Adler Hotel Frankfurt is situated right in the heart of the business metropolis Frankfurt am Main. Only 100 metres away from the main train station and 800 metres from the fairgrounds, it is the ideal place for business people and fair visitors but also very suitable for tourists.

Due to its convenient location the important attractions are easy to be reached.

The hotel offers the following complimentary services:
- WLAN in the entire house
- internet terminal in the hotel lobby
- coffee & tea in the lobby
- one bottle of mineral water per person in the room
Availability
Enter the dates of your stay to check availability.
Sorry, no room rates available.
Meal Packages
Breakfast is included in the rates.
Policies
Cancellations:
Cancellation is possible until any time of day 1 day prior to the check-in date without penalty.
A cancellation after that time or a no-show, will incur a penalty of 1 night's stay.
Check-in Time:
Check-in is possible from 06:30 to 24:30.
Check-out Time:
You may check out at any time before 12:00.
Reception Times:
Reception is open every day from 06:30 to 24:30.
Baggage Deposit:
Free baggage deposit in case of early check-in or late check-out.
Child Policy:
Children at any age welcome.
Smoking Policy:
Non-smoking rooms are available only on request.
Pets Policy:
No pets allowed including guide dogs.
Parking Facilities:
Private parking available on a request basis.
Directions to Adler Hotel
By Car: From A3 - exit "Messe Frankfurt" through "Friedrich-Ebert Anlage" - cross "Düsseldorfer Street" and turn right in the "Mannheimer Street" - from there a u-turn back to "Düsseldorfer Street" - turn right into "Karlstreet" and direct left into "Niddastreet"
From Airport Frankfurt: S-Bahn S8 direction "Offenbach Ost" or S9 direction "Hanau Hauptbahnhof" to "Frankfurt Hauptbahnhof"
From main railway station Frankfurt (Frankfurt Hauptbahnhof):
Entrance north - cross the big street (Düsseldorfer Street) - passage to "Niddastreet" on the right side
advertisement.
Facilities
Location Hilights:

Near train station

Near highway
Hotel Facilities:

Parking

Non-smoking rooms available

Alarm clock
Hair dryer
Fax
Room Facilities:

Minibar

Telephone

TV with cable or satellite