Hotel Ibis Budapest Váci út

T.:+ 36 13209475
DÓZSA GYÖRGY ÚT 65. H-1134 Budapest, Hungary (322 Rooms) - City center: 3.76 km
Click here for the map of Hotel Ibis Budapest Váci út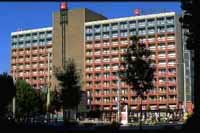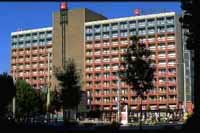 Modern building - 322 air conditioned rooms - new renovated in 2003, non smoking rooms, disabled rooms, family rooms available.
Restaurant La Table, Lobby bar, 24 hours concierge service, 8 bankett rooms-500 seats
Availability
Enter the dates of your stay to check availability.
Sorry, no room rates available.
Meal Packages
Breakfast is available for EUR 9.50 per person per night.
Policies
Cancellations:
Cancellation is possible until any time of day 1 day prior to the check-in date without penalty.
A cancellation after that time or a no-show, will incur a penalty of 1 night's stay.
Rates are excluding city tax of 3%.
Check-in Time:
Check-in is possible from 14:00 onwards.
Check-out Time:
You may check out at any time before 12:00.
Reception Times:
Reception is open 24 hours per day.
Baggage Deposit:
Free baggage deposit in case of early check-in or late check-out.
Child Policy:
1 child up to 12 years are free of charge per room. Children above that age are considered as adults.
Smoking Policy:
Both non-smoking and smoking rooms are available.
Pets Policy:
Small pets allowed for EUR 10.00 per night.
Parking Facilities:
Private parking available on a request basis.
advertisement.
Facilities
Location Hilights:

Town center

Near train station
Hotel Facilities:

Handicap equipped

Parking

Meeting/Conference rooms

Internet access

Wifi access

Bar

Restaurant

Pets welcome

Non-smoking rooms available

Alarm clock
Fax
Room Facilities:

Telephone

Air-conditioning

TV with cable or satellite

Baby cot