Bajaj Indian Home Stay
T.:+ 91 1125812860
8 A / 34, W.E.A., Karolbagh, 110005 New Delhi, India (10 Rooms) - City center: 2.28 km
Click here for the map of Bajaj Indian Home Stay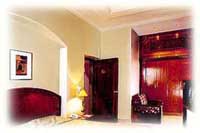 Stay in India with Bajaj Indian Home Stay - A Unique Concept Offering Affordable Bed and Breakfast Theme Accomodation in Delhi City. Extremely Popular for Foreign Tourists as well as Indians. It Offers all the Comforts a 4 Star Hotel Would Provide. Add Ons are Complimentary Buffett Breakfasts, Arrival Transfer Free,Tea/Coffee anytime on House, Welcome Drink Free, Inhouse Library Usage Free, Local Phonecalls are Free. Other Facilities Like Inhouse Internet, Fax, Zerox, Transportation is Offered at Extra Nominal Costs.

It is Truely a Home Away From Your Own.
Availability
Enter the dates of your stay to check availability.
Sorry, no room rates available.
Meal Packages
Breakfast is included in the rates.
Policies
Cancellations:
Cancellation is possible until any time of day 1 day prior to the check-in date without penalty.
A cancellation after that time or a no-show, will incur a penalty of 1 night's stay.
1) FREE ARRIVAL TRANSFER
2) Minimum no. of nights =1
3) The rates are inclusive of Complimentary Buffett
Breakfast and all taxes.
4) Tea/Coffee complimentary
5) Free welcome drink (non alcoholic) on check in time.
6) Local phone calls are free.
7) Checkin / Checkout time is 1200 Hours NOON.
8) Extra bed = USD 11
Check-in Time:
Check-in is possible from 10:00 onwards.
Check-out Time:
You may check out at any time before 12:00.
Reception Times:
Reception is open 24 hours per day.
Baggage Deposit:
Free baggage deposit in case of early check-in or late check-out.
Child Policy:
Children at any age welcome.
Smoking Policy:
All rooms are non-smoking.
Airport pick-up service:
Airport pick-up service for USD 0.00 per car.
Directions to Bajaj Indian Home Stay
Directions from airport:
From South Delhi Towards Dhaula Kuan, Entering on Ridge Road Towards Central-West Delhi & come to Pusa Road, enter in Karolbagh. We are very Easily Accessible from the Main Road & known in the Karolbagh Region.
advertisement.
Facilities
Location Hilights:

Town center

Near train station
Hotel Facilities:

Handicap equipped

Parking

Meeting/Conference rooms

Internet access

Wifi access

Bar

Restaurant

Pets welcome

Room service

Non-smoking rooms available

Alarm clock
Fax
Room Facilities:

Minibar

Telephone

TV

Air-conditioning

Room safe

TV with cable or satellite
Hair dryer

Fans

Baby cot
Sports Facilities:
Tours and Excursions