Hotel Swati

T.:+ 1 45000200
15A/56, Ajmal Khan Road 110005 New Delhi, India (33 Rooms) - City center: 1.97 km
Click here for the map of Hotel Swati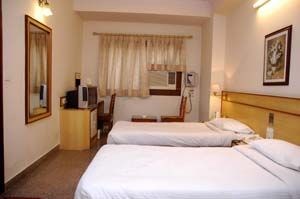 Majestic exterior, pleasant and tastefully done interiors, luxuriously furnished rooms, which have all modern facilities. Courteous staff, personalized service is the hallmark of " SWATI ".
Travelers seek out Hotel for the wide variety of services and amenities that help them stay productive while in the city. Rooms offers serene and peaceful environment for tourists and professional business services like a combination printer / fax machine and internet.
Located in the heart of the national capital Delhi. Located in the midest of largest shopping arcade of Asia, the Karol Bagh. Hotel has been providing international quality hospitality services for more than a decade to tourists from all over the world.
Availability
Enter the dates of your stay to check availability.
Sorry, no room rates available.
Policies
Cancellations:
Cancellation is possible until any time of day 1 day prior to the check-in date without penalty.
A cancellation after that time or a no-show, will incur a penalty of 1 night's stay.
All reservations are held untill unless confirmed and guaranteed with an advance payment equivalent to 1 night room rent by Cash/Demand Draft/Credit card at least 48 hours prior to arrival.
Our check-in / check-out time is 12.00 noon.
¡¤ Buffet Breakfast is complementary from the next day of check-in serves in Suruchi Restaurant between 07:30am to 10:30am. Along with 1 fruit basket at every evening.
¡¤ For more information regarding hotel services please find the attached as ¡®fact sheet¡¯.
¡ñ All amendments and cancellations are to be made 48 hours in advance beyond which
retention charges equivalent to one night charges shall be levied
¡ñ Reservations are subjected to 12.5% Luxury Tax & 10% Service Charge on full-published rate of the room category reserved. Early departure charges will also be applicable.
advertisement.
Facilities
Location Hilights:

Near airport

Town center

Near train station
Hotel Facilities:

Handicap equipped

Parking

Internet access

Wifi access

Restaurant

Room service

Non-smoking rooms available

Alarm clock
Fax
Room Facilities:

Minibar

Telephone

TV

Air-conditioning

Room safe

TV with cable or satellite
Hair dryer

Fans

Mosquito nets