Gioia Bed & Breakfast
T.:+ 39 3395014088
Via Vittorio Amedeo II, 20 00185 Rome, Italy (8 Rooms) - City center: 2.27 km
"Nous avions ete informe que nous ne serions pas au Gioia bed & breakfast mais au Filiberto bed & breakfast. Il se trouve à 200 m. La chambre etait propre et la deco agreable avec un petit balcon donnant sur un boulevard. Le Gioia est par contre dans une "
click here to read more reviews
Click here for the map of Gioia Bed & Breakfast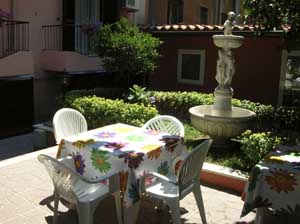 Less than 10 minutes walk from ROMAN FORUM, COLOSSEUM and Rome Centre Station, in a quiet and elegant area in the historical centre of Rome, you find "Gioia Bed & Breakfast", where you are welcomed in a friendly and relaxing atmosphere. The rooms are spacious and independent and in the private garden you can have a copious and genuine Italian breakfast amongst orange trees and fountains, under the gazebo. rooms with private bathroom ensuite.
GIOIA Bed and Breakfast is situated 100 m from Metro station MANZONI ( 5 - 10 minute from Vatican Museum and Spanish steeps). If you prefer to walk, Colosseum and Roman Forum are only a 10 minutes walk away, Veinice Sqaure and the Trevi Fountain can also be reached within 5 minute.
Availability
Enter the dates of your stay to check availability.
Sorry, no room rates available.
Meal Packages
Breakfast is included in the rates.
Policies
Cancellations:
Cancellation or no-show until any time of day 3 days prior to the check-in date is possible without penalty.
Check-in Time:
Check-in is possible 24 hours per day.
Check-out Time:
You may check out at any time before 11:00.
Reception Times:
Reception is open 24 hours per day.
Baggage Deposit:
Free baggage deposit in case of early check-in or late check-out.
Child Policy:
Children at any age welcome.
Smoking Policy:
All rooms are non-smoking.
Pets Policy:
No pets allowed including guide dogs.
Parking Facilities:
Public parking available.
Airport pick-up service:
Airport pick-up service for EUR 31.00 per car.
Directions to Gioia Bed & Breakfast
From the main airport in Rome to Gioia Bed and Breakfast:
- shuttle service: We can arrange a shuttle service door to door, from the exit terminal in the airport straight to your room. Our driver wait for the guests showing the name on a placard. If you decide to reserve this service, please provide by email to us the flight details (nr of flight,arrival time) and the name You want to be shown on the placard. THE PRICE IS EUR 31,00 FOR 2 PEOPLE.
- otherwise From Fiumicino airport (FCO) you have "Leonardo Express train" to Termini railway station (Every 30 minutes from 7 am to 11:20 pm at 14,00 Euro each ticket).
- From Ciampino airport, we suggest "Terravision bus" to Termini railway station. The price is Euro 4,00 per person.
From Termini railway station:
- to walk: 10 minute.
- UNDERGROUND, 1 minute: Metro A line (Red), direction Anagnina, stop station is MANZONI; take exit " Via San Quintino". tWalk Via San Quintino for 100 mt till GIOIA B&B.
advertisement.
Facilities
Location Hilights:

Near airport

Airport Pit Stops

Town center

Near train station

Near highway

Archaeological areas
Hotel Facilities:

Parking

Internet access

Wifi access

Non-smoking rooms available

Alarm clock
Fax
Cooking facilities
Room Facilities:

Telephone

TV

Air-conditioning
Hair dryer

Baby cot
Sports Facilities:

Bicycle rental
Tours and Excursions