Il Giglio Rosso
T.:+ 39 0559331853
Via Guido Monaco 25 50144 Florence, Italy (1 Rooms) - City center: 1.78 km
Click here for the map of Il Giglio Rosso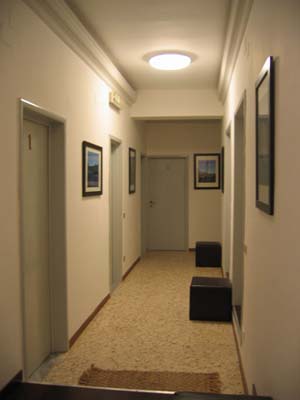 The Giglio Rosso B&B is at the third floor of a palace in the center of Florence. All the rooms have private bathroom. For the double rooms, you can choose between large bed or twin beds. The apartment is located in a strategic position. The railway station is just five munutes walk and a near parking allows also to arrive by car. The Highway exit of Florence Nord is 5,2 km far.
You can reach all the attractions of Florence, from the museum of the Uffizi to the Old Bridge, from the Basilica of S.M. del Fiore the bell tower of Giotto, with one beautiful walk of 15 minuteren crossing the ways of the florentine shopping.
We could supply every type of indication and, on your demand, we could arrange advance tickets for every event.
Availability
Enter the dates of your stay to check availability.
Sorry, no room rates available.
Meal Packages
Meals are not provided.
Policies
Cancellations:
Cancellation is possible until any time of day 1 day prior to the check-in date with a penalty of 1 night's stay.
A cancellation after that time or a no-show, will incur a penalty of 1 night's stay.
Check-in Time:
Check-in is possible from 11:00 to 20:00.
Check-out Time:
You may check out at any time before 11:00.
Reception Times:
Reception is open every day from 10:00 to 10:30.
Baggage Deposit:
Free baggage deposit in case of early check-in or late check-out.
Child Policy:
Children at any age welcome.
Smoking Policy:
All rooms are non-smoking.
Pets Policy:
No pets allowed including guide dogs.
Parking Facilities:
Public parking available.
Directions to Il Giglio Rosso
When you arrive on Florence S. Maria Novella railway station, exit on your right and covers Via Alamanni. At the trafic lights continue straight: it begins via Guido Monaco. After few meters on the left, you will find number 25. From the station they are less than 10 minutes.
In front of b&b there is also a bust stop to reach every destination in town.
advertisement.
Facilities
Location Hilights:

Town center

Near train station

Near highway
Hotel Facilities:

Room service

Non-smoking rooms available
Room Facilities:

Fans
Sports Facilities:

Bicycle rental