Budget Hotel Hortus

T.:+ 31 206259996
Plantage Parklaan 8 1018 SR Amsterdam, Netherlands (24 Rooms) - City center: 1.47 km
Click here for the map of Budget Hotel Hortus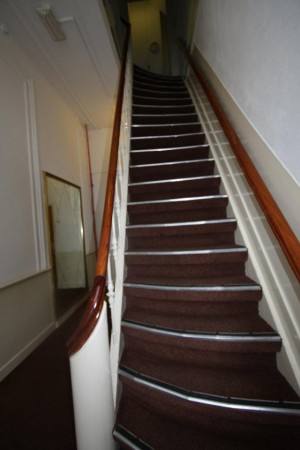 Hotel Hortus offers budget accommodation around the corner from the Artis Zoo, in the centre of Amsterdam. There is a free pool table and you can get free coffee and tea all day. Hortus has basic rooms for up to 6 people.

The rooms have a TV, a safe, free Wi-Fi and include towels and bed linen. Breakfast is available in the morning. After exploring the city centre you can relax in the hotel lounge. You get your own key to the hotel and can come and go as you please.
From Hotel Hortus, you can walk to The Hermitage Museum, Waterloo Square and the Red Light District within 15 minutes. Tram 9 and 14 stop near the hotel for easy access to other areas.
Availability
Enter the dates of your stay to check availability.
Sorry, no room rates available.
Meal Packages
Breakfast is included in the rates.
Policies
Cancellations:
Cancellation is possible until any time of day 2 days prior to the check-in date without penalty.
A cancellation after that time or a no-show, will incur a penalty of 1 night's stay.
Check-in Time:
Check-in is possible from 11:00 to 23:00.
Check-out Time:
You may check out at any time before 10:00.
Reception Times:
Reception is open every day from 08:00 to 23:00.
Baggage Deposit:
Free baggage deposit in case of early check-in or late check-out.
Child Policy:
Children at any age welcome.
Smoking Policy:
All rooms are smoking.
Pets Policy:
No pets allowed including guide dogs.
Parking Facilities:
We do not offer parking facilities.
Airport pick-up service:
No airport pick-up service.
Directions to Budget Hotel Hortus
To get to central station from Schiphol,take the train(they run approx every 15 minutes) direct to central station. The train will cost €4,00 euros(approx) one way.
To get to the Hotel from Central Station take tram 9. The price for public transport is €2,70 per ticket per person and is good for 1 hour.
Exit the tram at the 6th stop ( Artis/plantage kerklaan,) and cross the street.
Turn Right and walk back in the direction you just came from in the tram.
Turn Left on the first street which is our street (Plantage Parklaan) We are number 8 on the left side, directly across from the Botanical Gardens.
You can also take any metro from Central Station and get out at the second stop (Waterlooplein).Exit the metro and turn right and follow the sign Nieuwe Herengracht,at the exit turn right. Walk along this street until you see a canal. Turn left on this street Planatage Parklaan we are on the right side of the street..
advertisement.
Facilities
Location Hilights:

Town center
Hotel Facilities:

Internet access

Wifi access free
Cooking facilities
Room Facilities:

TV

Room safe
Sports Facilities:

Bicycle rental