Hotel Residencial Canada

T.:+ 351 213513480
Av. Defensores de Chaves, 35 1000-111 Lisbon, Portugal (30 Rooms) - City center: 2.87 km
Click here for the map of Hotel Residencial Canada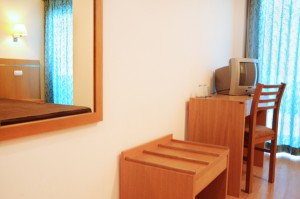 Welcome to Lisbon!

Residencial Canada enjoys a privileged location, right on the City centre and 15 minutes away from the international airport. The Residencial is close to all the main access roads, so that any part of the capital or outskirts is within easy access.

Our focus is on comfort! This three star unit offers high quality service. Recently refurbished, pleasant and comfortably furnished, all rooms are equipped with soundproof windows, air conditioning, telephone, Cable TV, haidryer and fully equipped bathroom. We also have a safe on the reception and laundry service.
Availability
Enter the dates of your stay to check availability.
Sorry, no room rates available.
Meal Packages
Breakfast is included in the rates.
Policies
Cancellations:
Cancellation or no-show will incur a penalty of 1 night's stay.
Check-in Time:
Check-in is possible 24 hours per day.
Check-out Time:
You may check out at any time before 00:00.
Reception Times:
Reception is open 24 hours per day.
Baggage Deposit:
Free baggage deposit in case of early check-in or late check-out.
Child Policy:
1 child up to 4 years are free of charge per room. Children above that age are considered as adults.
Smoking Policy:
All rooms are non-smoking.
Pets Policy:
No pets allowed including guide dogs.
Parking Facilities:
We do not offer parking facilities.
Airport pick-up service:
No airport pick-up service.
Directions to Hotel Residencial Canada
Av Defensores de Chaves 35 - 1000-111 Lisboa
Metro Station: Saldanha
Bus Stop: Saldanha. From the airport 44, 745 (regular) e 91 (airport shuttle)
advertisement.
Facilities
Location Hilights:

Near airport

Town center

Near train station

Near highway
Hotel Facilities:

Internet access

Non-smoking rooms available

Alarm clock
Hair dryer
Fax
Room Facilities:

Telephone

Air-conditioning

TV with cable or satellite

Baby cot
Sports Facilities:
Tours and Excursions