Carol Parc Hotel
T.:+ 40 213363377
23-25 Suter Str 040647 Bucharest, Romania (20 Rooms) - City center: 2.70 km
Click here for the map of Carol Parc Hotel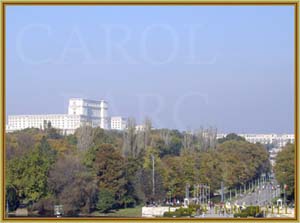 Welcome to Bucharest's most exclusive five star hotel. Located only minutes from the center of Bucharest, our hotel is surrounded by a beautiful and quiet neighborhood on the city's highest geographic location. The stunning panoramic views from our property are outdone only by the lavish interior design. With only 20 deluxe rooms and suites, the hotel spoils its guests with plasma televisions, fireplaces, Bulgari amenities, and personalized 24h service with great attention to detail.
Availability
Enter the dates of your stay to check availability.
Sorry, no room rates available.
Policies
Cancellations:
Cancellation is possible until any time of day 1 day prior to the check-in date without penalty.
A cancellation after that time or a no-show, will incur a penalty of 1 night's stay.
- Rates include light Continental breakfast
- Rates do not include 9% VAT and 3% city tax
- Children under 6 years free of charge
- Check in time 2 pm / check out time 11:30 am
- Cancellation possible up to 48 hrs before scheduled arrival
Directions to Carol Parc Hotel
From North of City (OTP Int'l Airport):
* Follow the large tree-lined Boulevard, Lascar Catargiu (going south)
* Pass Piata Romana, keeping straight on Boulevard Magheru
* Pass Piata Romana, keeping straight on Boulevard Magheru
* Keep straight and pass University square and one more intersection
* Keep right for taking the tunnel
* Turn right after tunnel, onto Boulevard Marasesti at the next big intersection
* Pass the square in front of "Carol Parc" and follow the tram line about 150m onto Dr. Constantin Istrati Str.
* Turn right onto Strada Col. Costescu and immediately right again and you have arrived at Aleea Suter
* "Carol Parc hotel" is situated at the end of this small street on top of the hill
advertisement.
Facilities
Location Hilights:

Town center
Hotel Facilities:

Parking

Meeting/Conference rooms

Internet access

Wifi access

Bar

Restaurant

Room service

Non-smoking rooms available

Alarm clock
Hair dryer
Fax
Cooking facilities
Room Facilities:

Minibar

Telephone

Air-conditioning

Room safe

TV with cable or satellite

Fans

Baby cot
Sports Facilities:

Health center

Massage

Bicycle rental