Hotel Sevilla Center

T.:+ 34 954 54 95 00
Avda. De la Buhaira, s/n 41018 Seville, Spain (233 Rooms) - City center: 1.79 km
Click here for the map of Hotel Sevilla Center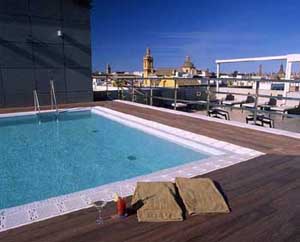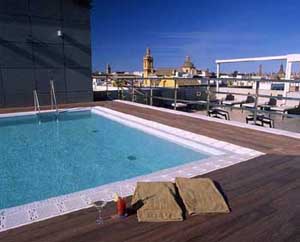 The Hotel Sevilla Center is situated in the Avenida de la Buhaira, one of the main streets of the Sevillian capital, well-known for its wide, beautifully landscaped areas. Its numerous, spacious meeting and event rooms, all possessing natural light, will become a focal point for holding conventions and all types of other events. It has excellent access to the historical centre of the city as well as to the main high streets and is a few minutes from the Santa Justa (AVE) train station.

Just 200 meters from the hotel, is the major Metro station, the station of San Bernardo. Connects with the Metro Line 1
Availability
Enter the dates of your stay to check availability.
Sorry, no room rates available.
Policies
Cancellations:
Cancellation or no-show will incur a penalty of 1 night's stay.
Mentioned prices are excluding breakfast and VAT(7%)
Price breakfast euro 13 per person(+7% VAT)
Breakfast hours are from 7.00h to 10.30h Monday-Friday and 7.00h to 11.00h Saturday and Sunday.
Check out time: 12:00 hours - Check in time: 12:00 hours
The pool will be closed until 16:00h on September 26, 2012 and October 6, 2012.
advertisement.
Facilities
Location Hilights:

Town center
Hotel Facilities:

Handicap equipped

Parking

Meeting/Conference rooms

Internet access

Bar

Restaurant

Room service

Alarm clock
Fax
Room Facilities:

Minibar

Telephone

Air-conditioning

Room safe

TV with cable or satellite
Hair dryer
Sports Facilities:

Sauna

Swimming pool

Solarium
Fitness room