Las Ramblas Barcelona Home B & B
T.:+ 34 695097612
Las Ramblas 36 2 floor, first 08002 Barcelona, Spain (8 Rooms) - City center: 0.84 km
Click here for the map of Las Ramblas Barcelona Home B & B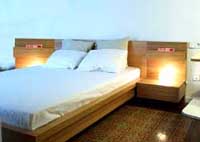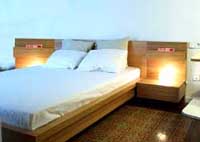 Luxury renovated apartment located at the most popular street of Barcelona of Las Ramblas. The historic building is State Heritage protected. Room with balcony and exciting view to Las Ramblas.
With free use of fully equiped kitchen and self catering breakfast. Guide of recommendations.
An amazing atmosphere in the Gothic area plenty of restaurants, bars, shops, museums and historical architecture and one minute from the harbour and the sea side.
Availability
Enter the dates of your stay to check availability.
Sorry, no room rates available.
Meal Packages
Meals are not provided.
Policies
Cancellations:
Cancellation is possible until any time of day 2 days prior to the check-in date without penalty.
A cancellation after that time or a no-show, will incur a penalty of 1 night's stay.
Check-in Time:
Check-in is possible from 10:00 to 02:00.
Check-out Time:
You may check out at any time before 11:00.
Reception Times:
Reception is open every day from 10:00 to 02:00.
Baggage Deposit:
Free baggage deposit in case of early check-in or late check-out.
Child Policy:
Children at any age welcome.
Smoking Policy:
All rooms are non-smoking.
Pets Policy:
No pets allowed except guide dogs.
Parking Facilities:
Public parking available.
Directions to Las Ramblas Barcelona Home B & B
It is obliged to inform us about your arrival time and name of the airport, so that we can wait for you at the apartment to give you the keys. Any changes of arrival time, delays, etc must be notified to us. Please, send us your mobil phone so that we can contact in case of problems or delays on arrival.
advertisement.
Facilities
Location Hilights:

Near airport

Airport Pit Stops

Town center

Near the sea

Near train station

Near highway

Colonial Cities

Archaeological areas
Hotel Facilities:

Parking

Non-smoking rooms available
Cooking facilities
Room Facilities:

Air-conditioning

Room safe
Hair dryer

Fans
Sports Facilities:

Sports ground

Water sports

Health center

Bicycle rental

Solarium

Bicycle rental

Trekking
Cooking courses
Tours and Excursions