Idyll Villas
T.:+ 90 2523855590
Zeybek Sokak No:8 48430 Bodrum, Turkey (3 Rooms) - City center: 13.57 km
Click here for the map of Idyll Villas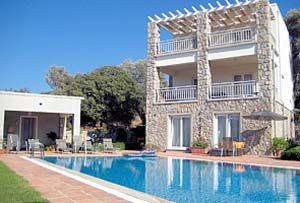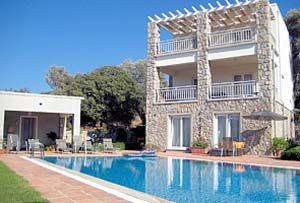 Idyll Villas, situated beyond the rows of the olive and tangerine groves, watch the rich blue water of the Aegean Sea. The purity of nature's surroundings refreshes and warms the soul and waves of peace and inner harmony fill the air. Plush aromas from the beautiful green scenery provide an intimate and relaxing environment, relieving you from the daily stresses. This is Idyll Villas, your home in Bodrum where you will experience the personal touch only a family-operated villa can offer.
Availability
Enter the dates of your stay to check availability.
Sorry, no room rates available.
Policies
Cancellations:
Cancellation is possible until 12 midday 7 days prior to the check-in date without penalty.
A cancellation after that time or a no-show, will incur a penalty of 1 night's stay.
To confirm reservation 15 % of the total amount will be paid in advance as deposit. The balance payment will be affected 3 weeks before arrival. Breakfast available on request.
Directions to Idyll Villas
Pass the health center at the entrance of Yalikavak, 2 left, 1 right.
advertisement.
Facilities
Location Hilights:

Near the sea

Country side
Hotel Facilities:

Parking

Non-smoking rooms available

Alarm clock
Fax
Cooking facilities
Room Facilities:

Telephone

Air-conditioning

Room safe

TV with cable or satellite
Hair dryer
Sports Facilities:

Swimming pool