Meddusa Hotel
T.:+ 90 2125287170
Nuruosmaniye Cad. No:7 Sultanahmet 34400 Istanbul, Turkey (21 Rooms) - City center: 1.88 km
Click here for the map of Meddusa Hotel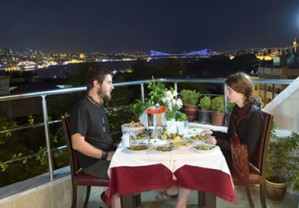 The Meddusa Hotel, Istanbul is located in the old City Centre of Sultan Ahmet, and is within easy walking distance of all the famous historical attractions; such as the Blue Mosque, the Hagia Sophia, the Underground Cistern, the Topkapi Palace, the Hippoddrome and much more. All rates are inclusive of all taxes and include an open buffet breakfast.
Availability
Enter the dates of your stay to check availability.
Sorry, no room rates available.
Meal Packages
Breakfast is included in the rates.
Policies
Cancellations:
Cancellation is possible until any time of day 1 day prior to the check-in date without penalty.
A cancellation after that time or a no-show, will incur a penalty of 1 night's stay.
Check-in Time:
Check-in is possible 24 hours per day.
Check-out Time:
You may check out at any time before 13:00.
Reception Times:
Reception is open 24 hours per day.
Baggage Deposit:
Free baggage deposit in case of early check-in or late check-out.
Child Policy:
No children allowed below age 6.
Smoking Policy:
Smoking rooms are available only on request.
Pets Policy:
Pets are allowed only on request.
Parking Facilities:
Private parking available free of charge.
Directions to Meddusa Hotel
From Ataturk Airport take the Havas Bus or take the metro to Aksaray. At Aksaray change for Eminonu in the direction of Sultanahmet. Leave the metro at Sultanahmet Square, we are close by.
advertisement.
Facilities
Location Hilights:

Near airport

Town center

Near the sea

Near train station

Archaeological areas
Hotel Facilities:

Parking

Internet access

Wifi access

Bar

Restaurant

Room service

Non-smoking rooms available

Alarm clock
Hair dryer
Fax
Room Facilities:

Minibar

Telephone

Air-conditioning

TV with cable or satellite