MacDonald Hotel

T.:+ 44 2078373552
45 - 46 Argyle Square WC1H 8AL London, United Kingdom (23 Rooms) - City center: 3.12 km
Click here for the map of MacDonald Hotel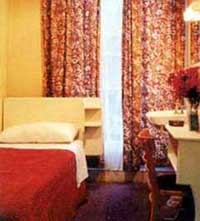 All of our visitors are amazed how easy it is to reach us whether you are arriving from the North, Scotland or from one of London's 5 international airports (and soon Eurostar).

Central for your London visit. Close to the major attractions and the West End – ideal for the theatres, variety of restaurants, clubs and shopping. Just a few steps away from Bloomsbury where you can experience the splendour of the Georgian and Victorian eras – including the British Museum and Dickens House.

Our tradition of providing clean and comfortable accommodation is now entrusted to the third generation of the family (Saviour, Tania and Paul).. The rooms are moderately furnished with TV, tea/coffee tray and wash hand basin. Some rooms have en-suite bathroom facilities. All rooms are serviced daily.
Availability
Enter the dates of your stay to check availability.
Sorry, no room rates available.
Meal Packages
Breakfast is included in the rates.
Policies
Cancellations:
Cancellation is possible until 10 pm 3 days prior to the check-in date without penalty.
A cancellation after that time or a no-show, will incur a penalty of 1 night's stay.
Check-in Time:
Check-in is possible from 11:00 to 24:00.
Check-out Time:
You may check out at any time before 11:00.
Reception Times:
Reception is open every day from 07:30 to 02:00.
Baggage Deposit:
Free baggage deposit in case of early check-in or late check-out.
Child Policy:
Children at any age welcome.
Smoking Policy:
All rooms are non-smoking.
Pets Policy:
No pets allowed including guide dogs.
Parking Facilities:
We do not offer parking facilities.
Airport pick-up service:
No airport pick-up service.
Directions to MacDonald Hotel
- Nearest Tube Station: Kings Cross St. Pancras
- Nearest main Line Stations: Kings Cross, St. Pancras, Kings Cross Thameslink, Euston
- From airports: Heathrow: By Tube Piccadilly Line - direct; By Airbus A2; Gatwick & Luton : By Train to KingsCross Thameslink - very good service.
Stansted : By train to Liverpool Street Station then by Tube to Kings Cross.
- By bus A6 to Victoria - stop at Baker Street
advertisement.
Facilities
Location Hilights:

Town center

Near train station
Hotel Facilities:

Non-smoking rooms available

Alarm clock
Fax
Room Facilities:

TV

Fans